Here is all the information you need to know about hip hop jewelry, from iced out bracelets and watches to gold hip hop pendants and chains!

What comes to mind first for you when you think of hip-hop music? Kanye? Jay-Z? the jewelry? Hip hop culture is highly recognized for its gaudy, flashy jewelry more so than for its music or artists. Their extravagant purchases are often the buzz of the town, from Waka Flocka Flame's $150,000 Fozzie Bear Chain to Lil Wayne's $150,000 gold and diamond-encrusted teeth. Therefore, read on to learn more about hip hop fashion jewelry, its history, and the various hip hop accessories!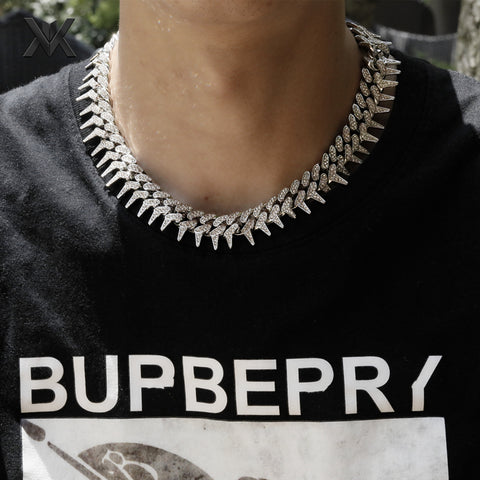 What is Hip Hop Jewelry?
Hip-hop music has always been about the challenges, experiences, feelings, stories, emotions, and oppression of the artist. At least that is how it began. I have no idea what modern rappers talk about. Kanye West, I'm talking to you. While the jewelry these rappers wear (or should I say flaunt) represents their success, riches, and prestige, it also demonstrates their triumph over adversity by the fact that they are wearing $1500 trinkets today. Thus, it has considerably more significance and worth to them than just aesthetics or appearance. a symbol of what they have accomplished in spite of all the odds.
This show goes beyond jewelry to include their homes, cars, and way of life, becoming a culture that encourages others to live like. But with hip-hop jewelry looking so stylish and having such a rich culture to boot, who can complain?
A History of Hip Hop Jewelry
Since the beginning of the hip hop subculture in 1970, jewelry has played a significant role in its culture. Additionally, it has always been used to denote riches and position. DJ Kool Herc popularized this genre of music. Kurtis Blow also made overaccessorizing fashionable by posing for his record cover while donning many layers of gold chains! Hip hop music started to be regarded as a component of popular music by the late 1980s.
The bling increased as the genre expanded! Rappers wore anything from four finger rings, which we regrettably don't see as much anymore, to the iconic rope gold chain, which performers like Chris Brown and Wiz Khalifa still wear today. And as time went on, more and more musicians joined this genre, so it was no longer exclusive to people of color. And both jewelry and culture changed. Nelly and Lil Wayne both wore grillz, which is jewelry that covers the teeth! And the majority of rappers started donning jewelry that was made just for them and featured their names or brands. All thanks to some of the most prominent hip-hop jewelry designers, like Elliot Avianne, Gabriel Jacobs and Ben Baller.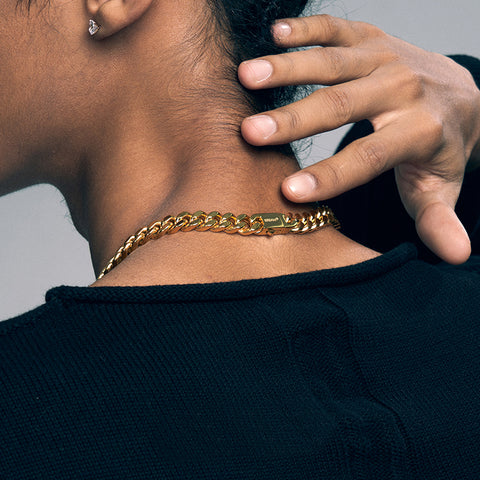 Different Styles Of Hip Hop Jewelry
See the hottest styles of authentic hip hop jewelry, ranging from gold-plated to iced out, below!
Urban Jewelry
Street clothing or street jewelry is what urban jewelry is. Simple rings, pendants, bracelets, and thin chains—often stacked with heavier chains—are included in this category. It might also be a straightforward sparkling necklace similar to the one Will Smith wore when he was on Fresh Prince of Bel Air. These straightforward accessories are fantastic for regular use as well as for layering with other hip hop fashion jewelry to go all out.
Rapper Jewelry
Rappers adore stacks and stacks of pricey, heavy jewelry more than anything. They all wear gold chains with large pendants, despite the fact that they each have their own personal preferences and sense of style. Massive is exactly what I mean when I say it. Think of Rick Ross' enormous gold and diamond pendant featuring his own face! Rap stars also adore wearing double, three, or four finger rings that are connected to one another.
Gangster Jewelry
Want to feel and look totally badass? Here's how to do it stylishly, though! Wear jewelry with dollar signs, lion heads, crowns, skulls, and guns on your rings, bracelets, and chains. Additionally, gangster jewelry is very popular and includes gold nugget rings, grillz, and king pendants that physically spell out the word "Gangsta."
Gold Plated Hip Hop Jewelry
These gold-plated accessories are your best bet if you enjoy wearing hip-hop jewelry on a regular basis. We all understand that one of the strongest metals available is gold. Gold will not rust or discolor, in contrast to costume jewelry. But purchasing one isn't so inexpensive. Therefore, gold-plated hip-hop jewelry is the finest choice because it is less expensive than gold-filled jewelry. Hip Hop White Gold Jewelry.
Pure yellow gold is frequently combined with additional metals including silver, zinc, copper, palladium, and nickel to create white gold. As a result, they have a little yellow tint to their silver appearance. Although it's not the most robust, it's far less expensive, making it ideal for occasional use. Women prefer white gold hip hop jewelry more than males do.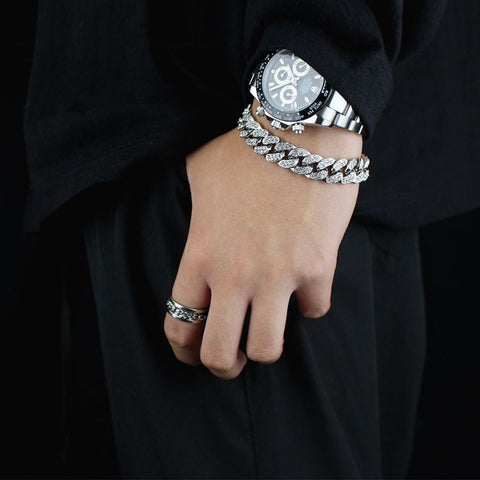 Sterling Silver Hip Hop Jewelry
Sterling silver is pure silver that has been alloyed with copper to make it stronger and tougher. As you could expect, it is very strong and suitable for heavy use. This metal is frequently used in men's hip-hop bracelets.
Stainless Steel Hip Hop Jewelry
If you're on a tight budget, stainless steel jewelry is an excellent choice as it is likely the least expensive material. Look into matte stainless steel hip-hop jewelry. Even if they lack glitter, they definitely have style! Perfect for times you simply want to experiment with a fresh, wacky look without making a commitment.
Diamond Or Iced Out Hip Hop Jewelry
Jewelry with pavé diamonds or that has several stones placed closely together is frequently referred to as "iced out" or "icy" jewelry in the hip-hop and bling-culture. They are among the priciest and most well-liked varieties of hip-hop bling among rappers and celebrities. This design would look amazing on any sort of hip hop jewelry, from chains to rings, because to its high-shine and sparkle.
Mens Hip Hop Jewelry Shopping Ideas
1. Hip Hop Chains/ Rapper Chains
Everybody who appreciates hip-hop fashion needs to have these. There are numerous varieties of hip hop chains, ranging from byzantine and figaro to cuban, rope, and box. Additionally, they come in a variety of metals and finishes. You can wear these chains by themselves or with some eye-catching pendants!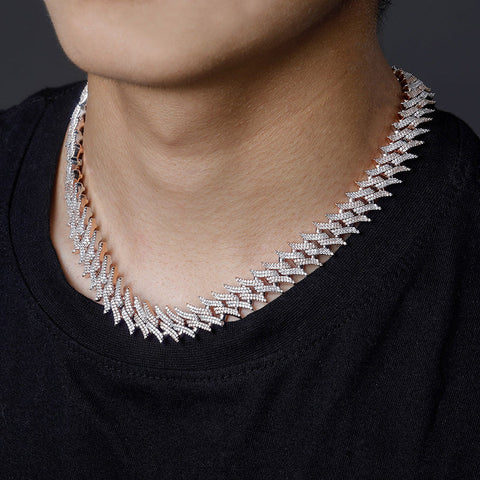 2. Hip Hop Pendants
The majority of men's hip hop jewelry consists of pendants. They enjoy having jewelry hanging from their necks and tattoos all over their bodies. The Egyptian theme, cross symbols, coins & notes, initials, and phrases are the most widely used design elements for bespoke hip hop pendants.
3. Hip Hop Earrings
Hip hop earrings for guys frequently feature 3D cubes, gold buttons, huggie hoops, and spiky studs. Large gold bamboo hoops of various shapes, such as circles, squares, rectangles, and diamonds, are preferred by women. A hoop on one ear and a stud on the other are examples of mismatched earrings that are sometimes worn.
4. Hip Hop Jewelry Sets
You no longer need to worry about how to wear your unique hip-hop jewelry with anything. These sets take care of everything for you because they include matching bling chains, pendants, rings, and other accessories. Some ensembles even include a variety of short and long hip-hop necklaces that, while perhaps not matching, look good together.
5. Hip Hop Rings
G-link, double finger, nugget, and iced out rings are popular types of jewelry. In addition to that, massive rings with lion or skull heads and enormous stones, like the one DJ Khaled wears all the time, are also common.
6. Hip Hop Watches
Influential artists and celebrities use watches that are entirely coated in diamonds, making it impossible to see the strap or chain. Additionally, the dial is frequently adorned in diamonds or other precious stones! On the same hand, these iced watches are frequently worn with chain link bracelets. And wear two timepieces at once to emulate Tyga's stylish and unique style!
7. Hip Hop Diamond Jewelry
The most sought-after hip-hop jewelry is unquestionably iced out. However, if you think your usual frosty jewelry is a little dull, try wearing colored diamonds like Soulja Boy does, such as blue, black, or red. These would look fantastic on jewelry such as rings, pendants, bracelets, earrings, and even spectacles!