Connecting the most expensive iced-out jewelry with the rap culture, which is believed to have its roots in the poorest neighborhoods, should seem somewhat odd. It ought to be, but it isn't. Rap and hip-hop fashion have long been at the forefront of trends in jewelry, clothing, and music. Rap celebrities serve as an example of how one may achieve success with little more than talent and tenacity by making every aspect of their image appealing, from their music to the shoes and hiphop jewelry they wear. It has a significant impact on audience members' shopping decisions and, thus, on fashion in general.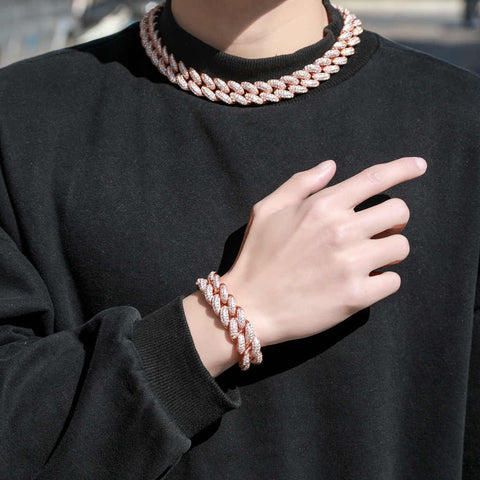 Most of the rap jewelry is large and bulky. That's sometimes interpreted as a desire to make up for things that were lacking in the hip-hop celebs' majority's early, less affluent lives. Whatever the cause, it got us to the point where these guys are knowledgeable about high-end knickknacks.

Chains and pendants are the jewelry items that rappers wear the most frequently. Their inventiveness and imagination are unrestricted. Rap style is heavily influenced by layers of bulky silver, gold, platinum, and diamond chains, kilograms of one-of-a-kind medallions and pendants, mind-blowingly expensive designs, and men's jewelry businesses whose names appear in the lyrics of the songs. Those jewelry pieces undoubtedly have some fans.
There are numerous chain design options, which have an impact on the necklace's appearance. Although there is a tremendous amount of diversity here, there are several genres that are unique to the rap scene.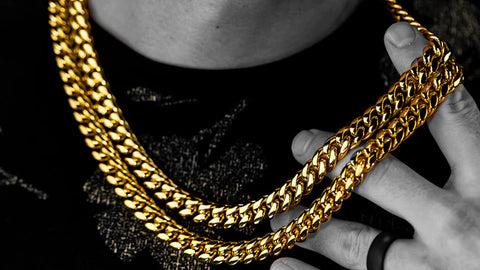 One of these recognizable fashions for rappers is the Cuban link chain. The twisted flat oval link jewelry pattern was created in the 1970s, and the name of the style comes from the region where it was most popular. One of the most iconic and well-liked designs in the world is the Miami Cuban link chain. Although it has been a while since the necklace became a timeless classic and essential piece of jewelry that every lady and man should own, it is once again at the top of the men's jewelry trends this year. Going back to rap clothing, we must comprehend why the Cuban chain was selected as one of the symbols. The chain seems enormous at first. Rappers quickly learned that there are chains that weigh heavier, cost more, and are less spectacular for the purpose of flaunting status and riches, despite their preference for large gold things. The Cuban chain's design makes the hiphop jewelry appear more heavier than it actually is. Second, the Cuban link chain is exceptionally robust due to its design, which is just what a rapper needs because the heavy pendants demand a sturdy foundation. Moreover, a gold chain faces considerable difficulties when worn on a daily basis. These factors ensure that hip-representatives hop's will be popular for many years to come.
The rappers Run D.M.C. and Eric B. & Rakim popularized the rope chain in the neighborhood in the 1980s, ten years after the Cuban chain. Countless links are connected to create the rope-like structure of the chain. Every link has been polished to provide a brilliant shine that creates a magnificent, opulent appearance that is visible from a distance. The rope chain's fascinating elasticity makes it nearly impossible to take your eyes off it. The links' interconnection ensures the chain's durability and the security of the weighty pendants. For the record, hanging from the rope chain was the infamous Lil Jon's "Crunk Ain't Dead" pendant, which had fairly outstanding weight and price features. In reality, this necklace gave rise to a number of well-known men's jewelry tracks and even intense rivalry between rappers.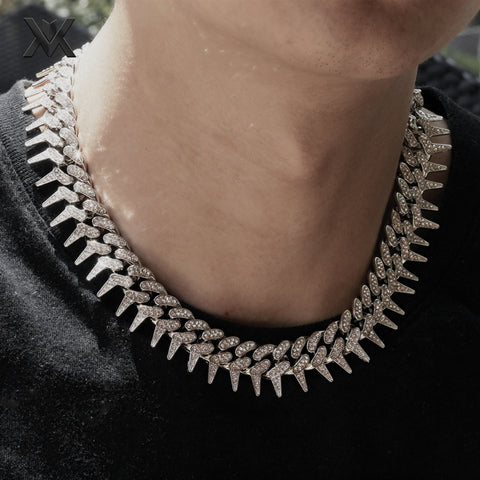 Rappers also have respect for the Mariner chain, which is another type of chain. When heavy-duty chains that are used to secure anchors serve as the inspiration for the jewelry, the pattern of it is unsurprisingly pretty enormous looking as well. Some people liken the pattern, which features oval linkages with vertical bars inside, to coffee beans. Such a structure offers an extremely durable appearance that is hefty. It also allows for a lot of room to be iced-out, frequently with different colored jewels, like in the renowned Pharrell Williams' 18 link Mariner chain with the Billionaire Boys Club logo pendant for $1,000,000.00. The Mariner chain has developed as a must-have item for people involved in rap and hip-hop culture since it helps to establish a personal aesthetic and makes a big statement about your social standing.
So long as they are large and expensive enough, various chains can project the image of a rapper. But the pendant—another crucial component of the hip-hop aesthetic—has already been discussed. It's difficult to overstate the significance of this item in rap culture. The hiphop jewelry item is what best expresses the uniqueness and originality that each rapper values so highly. The pendant functions as a kind of signature that declares the wearer's independence and the veracity of their identity.
The struggle to own the nicest, most expensive, and most unique necklace available has long since gone beyond all logical bounds. We simply give a few of the pendants that some rappers chose in order to show how far they will go to shock their audience.
The necklace from the iced-out transformer mask, which costs $700,000, is in the ownership of Yung Berg.
Quavo owns a massive diamond pendant of himself clutching Remy the rat from the movie Ratatouille, which cost $250,000.
Lil Pump owns a diamond self-portrait of himself that he paid $300,000.
T-"Big Pain's Ass Chain" pendant caused him to become the subject of a scandal. This piece of art cost a hip-hop celebrity $410,000 and weighs 4.5 kilograms.
In "Shark Chain" by Tekashi69, Bruce the shark from "Finding Nemo" is depicted. On it, he has invested almost $750,000.
In contrast, Rick Ross paid $1,500,000 for his iced-out image.
The record label's logo was covered in diamonds by Mike Jones. The $1,000,000 "Ice Age" jewelry was said to have been stolen.
Because of this, you can choose practically anything as the base for a pendant to be made in the rap style. It's the ideal approach to make up for anything you missed out on while growing up while also surprising everyone around you. You only need money and imagination to create the ultimate rap style men's jewelry.
Rappers often favor other hiphop jewelry that is designed to draw attention. The bracelets frequently used stacked to create a stunning layered look are particularly echoing the popular chain types. The chain bracelets can also be embellished with pendants and are frequently iced out with diamonds and other jewels. Rappers' rings are designed to be big and hefty. Sometimes a single ring will need to be worn on two fingers at once or may be made to seem like brass knuckles that cover numerous fingers. Of course, those rings ought to be heavily embellished with diamonds or inscribed with a deep sentiment.
Rap jewelry is a very distinctive and daring category. It is designed to shout about the wearer's achievement and social standing. Therefore, if your goal is to stand out, it will be quite helpful.